Fire behaviour calculator app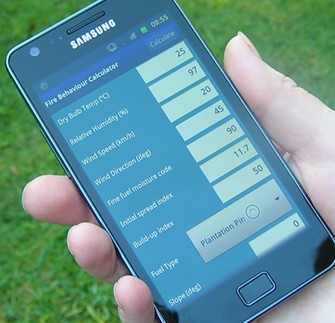 A SmartPhone application based on the Fire Behaviour Toolkit calculator is now available.

It enables fire behaviour predictions more easily in the field on devices such as mobile phones and tablets. As well as providing an additional tool for fire managers, this could also enable landowners to determine fire behaviour potential more accurately, thereby minimising the chances of fire escapes from burn-offs. This user-friendly app can undertake simple calculations for:

a single scenario (as in the toolkit calculator software), or
alternative scenarios using "phases" (similar to the worksheet function).

Download
The smart app is free to download for both Android and Apple devices. Search for "fire behaviour calculator" on either the Google Play store (Android devices) or on the App Store on iTunes. Currently, there are no Windows versions available.

This mobile application was developed by Scion and Haumohio, and supported by the Forest and Rural Fire Association of New Zealand (FRFANZ) and the Ministry for Science & Innovation (MSI; now MBIE).

The fire team welcomes any feedback on the App, such as how we could improve it, or any bugs you come across.

Method
Once you have uploaded the app from either Google play or iTunes stores:

Open the app
Tap the intro screen to get started
In this first window you can create a new file, open an old file or delete files
In the second window you add in details of the fire name and date, tap [edit] button to move on
Third page you can plug in values the same as you would for the Toolkit computer software
Once you have entered in the values, touch the [calculate] button at the top of the screen to see the fire behaviour outputs
Touch the [change] button to go back to your input page to change anything
EXTRA phases
If you want to add a new input column (phase), touch your [menu] button and choose [add] from the menu. Swipe across (left and right) to change between your columns (phases).

SAVE your files
If you want to save the file, you can also touch your [menu] button and choose [save] from the menu. This file can be revisited at any time with the values saved.

SHARE your files - android function only
The saved file can be emailed to anyone you choose, then opened up in the Toolkit software on a computer to be printed out or saved as a PDF for your reports.

Your saved file can also be shared between smart devices via bluetooth.